Collar
Collar

SOLID EDUCATION Special
Regular price

from $63.99
"Is that hand-braided?" – Elements that, for us, are simply part and parcel of producing high-quality leather products, are a huge surprise and hard to believe for some dog owners. But every collar, every harness and every leash in our factory workshop has indeed been worked on by the attentive hands of trained HUNTER staff to make sure it can unfold its full splendour when finally placed on your dog. The SOLID EDUCATION series is considered a classic in the HUNTER product range and stands out thanks to its refined look and the use of the pleasantly soft yet easy-care leather. Thanks to the artistic braiding, the SOLID EDUCATION SPECIAL collar looks especially classy and light. With its jewelry trimming in the shape of the HUNTER dog on the strap, you show any interested dog lovers that you accept only the best for your beloved friend.
Note: Sometimes the color may rub off slightly. Due to the special processing of this article, a slight stretching of the leather by 0.2"- 1" (1-3cm) cannot be excluded.
Adjustable: 13" - 15" / 33 - 38 cm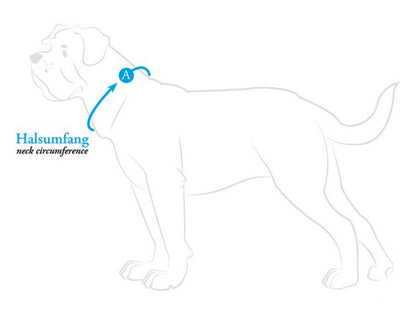 Measure the circumference of your dog's neck (A) by placing a flexible tape measure around the middle of his neck. The tape measure should be tight enough, but not restrict your dog. Leave approximately one finger's width between the tape measure and your dog's neck.
Because the specifications for adjusting our various collars usually overlap slightly, you do not necessarily have to use the first or last hole to guarantee an optimal fit. Should the circumference of the neck of your dog be at the upper end of the measurements specified then you can alternatively choose the next larger size. This is especially recommended for dogs that are still growing.
Our collar sizes (e.g. size 30) relate to the total length of the material used without taking the buckle and the fastener into consideration. It should be noted that when considering the range of adjustments the first value relates to the smallest and the second value to the largest adjustment possible.
If you don't know the measurements of your pet, Hunter Pet Store has put together a size table of popular breeds to help ensure you select the correct size for your pet.