Harness
Harness

DIVO
Regular price

from $59.99
There is plenty to love about the DIVO – its ergonomic fit, the vibrant colors, the comfortable and breathable padding, and the 3M™ Scotchlite™ Reflective Material along its entire length to keep you and your pet safe even in poor lighting conditions. Regardless of which element is your favorite, one thing is clear: you will love using this comfort harness and all the features it offers for day-to-day wear and during sporting activities or adventures with your four-legged friend.
The alternative second D-ring is particularly noteworthy: along with the standard position on the dog's back, this harness features a ring on the chest to which you can attach a leash. You can use this ring by itself or as an additional second anchor point to keep your pet under optimal control.
The five-point adjustability means that the DIVO can be customized to your dog's needs and physical build so that it feels like a second skin when handled correctly. This is the harness you have been waiting for – pamper your pooch with maximum comfort and enjoy the vivid colors that wonderfully complement your dog's coat.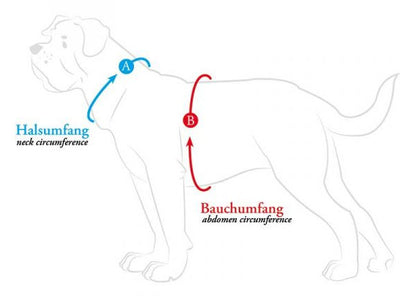 Using a flexible tape measure, measure the circumference of your dog's abdomen (B) just behind the front legs at the widest point of the chest. The tape measure should be tight but not restrict your dog. Leave approximately one finger's width between the tape measure and your dog. You can use this measurement and the circumference of the neck (A) to determine the correct harness size. As a rule, all harnesses are adjustable around the abdomen as well as in several other positions, making it possible to adapt the harness optimally to any body shape for ideal comfort.

All harnesses from the HUNTER range are characterized by easy handling, sophisticated details and padding.
If you don't know the measurements of your pet, Hunter Pet Store has put together a size table of popular breeds to help ensure you select the correct size for your pet.