Collar
Collar

AALBORG Soul
Regular price

from $49.99
We love dogs and they love us. Nothing else matters. That's what this collar is trying to say with no words needed. The collar Aalborg Soul is made of beautifully soft oiled genuine leather, with a punched heart decor in its whole length. You can choose from three elegant colors - cognac, red or black.
Let's show off to the whole world that the bond between you and your dog is officially unbreakable.
Adjustable: 8.2"- 9.8" / 21 - 25cm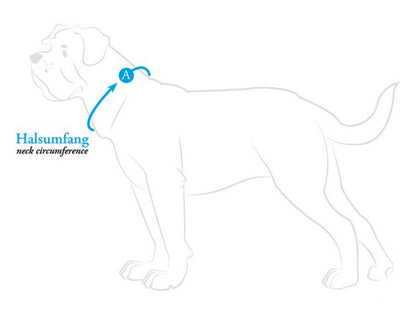 Measure the circumference of your dog's neck (A) by placing a flexible tape measure around the middle of his neck. The tape measure should be tight enough, but not restrict your dog. Leave approximately one finger's width between the tape measure and your dog's neck.
Because the specifications for adjusting our various collars usually overlap slightly, you do not necessarily have to use the first or last hole to guarantee an optimal fit. Should the circumference of the neck of your dog be at the upper end of the measurements specified then you can alternatively choose the next larger size. This is especially recommended for dogs that are still growing.
Our collar sizes (e.g. size 30) relate to the total length of the material used without taking the buckle and the fastener into consideration. It should be noted that when considering the range of adjustments the first value relates to the smallest and the second value to the largest adjustment possible.
If you don't know the measurements of your pet, Hunter Pet Store has put together a size table of popular breeds to help ensure you select the correct size for your pet.
The Highest Standards For Pet Accessories
Quality is the most important for us. Our passion for quality does not just apply to our products. We want to bring joy to people and animals and visibly express their profound bond. Our understanding of quality also determines our interpersonal communication. It is shaped by dependability, loyalty, partnership and responsibility. You can rely on us, on those who work for Hunter, and the products we make. Always.