Collar
Collar

HILO
Regular price

from $23.99
Innovative, soft, modern and light, these are just some of the characteristics that make HILO so special. The collar HILO Vario Basic is made of 3D mesh material, which is not only breathable and surprisingly light weight, but also has a cooling effect on warm days. Simply place in cold water before use - and the neck becomes a portable refreshment. The optimal fit can be easily adjusted with a continuously adjustable slider. Reflective elements help to increase visibility in poor visibility conditions. Small but practical details round off the overall impression - for example, the prominently placed HUNTER logo or the particularly soft seams of this extraordinary neck provide that little bit extra in comfort and style.
Adjustable: 11.8" - 17" / 30 - 43 cm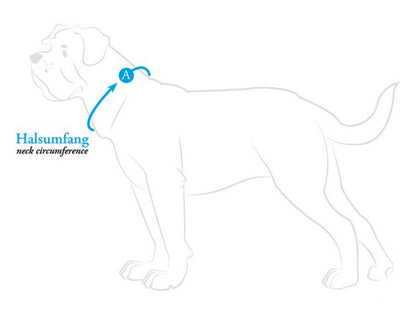 Measure the circumference of your dog's neck (A) by placing a flexible tape measure around the middle of his neck. The tape measure should be tight enough, but not restrict your dog. Leave approximately one finger's width between the tape measure and your dog's neck.
Because the specifications for adjusting our various collars usually overlap slightly, you do not necessarily have to use the first or last hole to guarantee an optimal fit. Should the circumference of the neck of your dog be at the upper end of the measurements specified then you can alternatively choose the next larger size. This is especially recommended for dogs that are still growing.
Our collar sizes (e.g. size 30) relate to the total length of the material used without taking the buckle and the fastener into consideration. It should be noted that when considering the range of adjustments the first value relates to the smallest and the second value to the largest adjustment possible.
If you don't know the measurements of your pet, Hunter Pet Store has put together a size table of popular breeds to help ensure you select the correct size for your pet.