Harness
Harness

MALDON Safety
Regular price

from $94.99
The MALDON safety harness is perfect for timid and anxious dogs, or those that have been adopted and may be prone to running away. With HUNTER workshops' MALDON series, this harness offers added protection, including the grip on the back, which helps keep your pooch safe in perilious situations.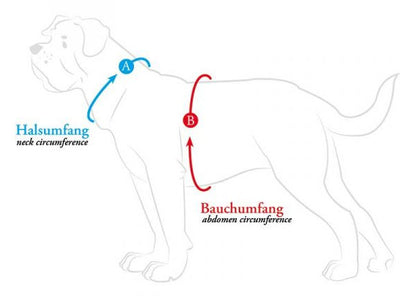 Using a flexible tape measure, measure the circumference of your dog's abdomen (B) just behind the front legs at the widest point of the chest. The tape measure should be tight but not restrict your dog. Leave approximately one finger's width between the tape measure and your dog. You can use this measurement and the circumference of the neck (A) to determine the correct harness size. As a rule, all harnesses are adjustable around the abdomen as well as in several other positions, making it possible to adapt the harness optimally to any body shape for ideal comfort.

All harnesses from the HUNTER range are characterized by easy handling, sophisticated details and padding.
If you don't know the measurements of your pet, Hunter Pet Store has put together a size table of popular breeds to help ensure you select the correct size for your pet.