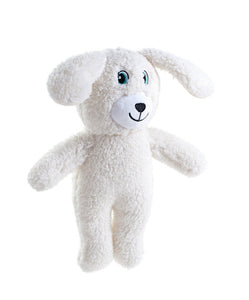 After a long walk through the forests and fields, with plenty of play and training, you return home and sit down on the sofa with a tea or a coffee. Put your feet up and relax – there's nothing better! But what about your dog? Your four-legged friend likes to relax in their own inimitable way. Straight to the dog basket, make sure everything is where it should be and then... your dog's eyes turn to the soft and cuddly friend who has been waiting for them at home. This is one of the cute little companions from the TERNI range, made from soft material with a squeaker inside. Rough and wild outside in the great outdoors, your dog will become docile and sleepy in an instant back home with TERNI.
Height - 11" / 29cm
Material - Polyester
The Highest Standards For Pet Accessories
Quality is the most important for us. Our passion for quality does not just apply to our products. We want to bring joy to people and animals and visibly express their profound bond. Our understanding of quality also determines our interpersonal communication. It is shaped by dependability, loyalty, partnership and responsibility. You can rely on us, on those who work for Hunter, and the products we make. Always.